How To Link Facebook To Twitter Account At Once
Have you ever thought for once why someone would want to link Facebook to Twitter account? Or have you ever wished to link your Facebook account to Twitter account; but do not know how to go about it.
Well, to link Facebook to Twitter account is no work as you can sit back, take your coffee and do it by yourself by going through these simple steps below.
Linking your Facebook account with your Twitter account would make it easier for you to share your posts and thoughts with your Twitter followers and Facebook friends just at once.
That makes it all a lot convenient! At least one reason you would link Facebook to twitter account..
The steps below will guide you. So let's get started!
Steps To Link Facebook To Twitter Account
Step 1. Visit this link Here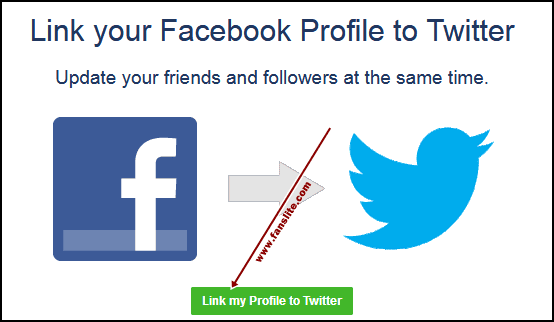 Step 2. Click on "Link my Profile to Twitter"
Step 3. Click on "Authorize App" The action will simply authorize your Facebook account post to your Twitter account.
Step 4. Now that your Facebook account is linked to your Twitter account, you can at this point decide to make adjustments to some of your Facebook settings.
There are checked boxes close to the following; Status Update, Photos, Links, Notes, Events.
If you would like all of these things to be shared too on your Twitter them, simply leave them checked, but if you would not like any of them to be shared, simply uncheck that particular option…and it will not be shared to your Twitter account.
Hope the article was helpful?
Always visit back for updates on related topics and more. Using the comment box below, make your comments, suggestions and contributions.