Top 10 Richest Politicians in Nigeria | Latest Update
Richest Politicians in Nigeria – Whatever the state of affairs perhaps, it is very obvious that a lot of money is circulated with the corridors of power and therefore those in the corridors of power – politicians- have access to a lot of money and amass wealth for themselves in the course of politicking.
It is a given that once a politician becomes elected and resumes in the office he is elected into, in little time he or she would amass wealth. A lot of individuals accuse politicians of theft of public funds.
Whatever the case could be, the fact still remains that a number of these politicians rank high on the list of the richest persons in Nigeria and the reason why this is so has been stated.
Here is our list of the top 10 richest politicians in Nigeria in 2020.
Rochas Okorocha may be a politician from Imo State, South East, Nigeria and he is listed as the richest politician in Nigeria for the year 2018. He was a rich businessman before he joined politics. Rochas contested and won in 2011 and 2015 respectively in the Imo State Governorship elections as Governor.
Added to this, he is the founding father of Rochas Foundation, an organization that has special colleges for the less privileged within the society.
Rochas is reported to be worth a whopping 1.5 billion dollars.
2. Ibrahim Badamosi Babaginda (IBB).
Ibrahim Babangida is one of the most influential Nigerian politicians and he is also one among the richest.
He was Nigeria's Military Head of State at some point. IBB was additionally noted for the annulment of the June  12, 1993 elections which Moshood Abiola won free and fair.
IBB is reported to be worth about 5 billion dollars.
Olusegun Obasanjo popularly known as "OBJ" or "Baba" is one among the richest politician in Nigeria and he is from Ogun State, a border state with Lagos.
The veteran politician owns the Otta Farms and several businesses and investments within the country. It's also reported that he has some oil blocks and a few stakes in some other countries.
Obasanjo or Obj as he is fondly referred to in Nigeria was Nigeria's Military Head of State between 1976 and 1979 was when Nigeria switch to democracy in 1999, he was elected as Nigeria's President which he served as till May 29, 2007.
Over the years he has gained wealth. Obj's wealth is valued at 1.6 billion dollars.
Atiku Abubakar is the most recognized Vice President in Nigeria's democratic history. He was VP in Obasanjo's Presidency from 1999 to 2007.
He was additionally a former accountant of the Nigerian customs. Atiku has wide-ranging business interests. He owns a supply company and additionally, the American University of Nigeria (AUN) in 2005 amongst several other investments together with his property business.
Atiku Abubakar is calculable to possess an internet value regarding $1.4 Billion bucks.
Bola Tinubu is a Nigerian politician who has been on the scene for decades.
Bola Tinubu was Lagos State's former governor and senator and his wife, Remi Tinubu is a serving senator.
Please note the estimated net worth of these politicians aren't exact and not in any order.
He is additionally one among the high ranking APC's party ruler and is regarded by some folks as a really sturdy politician, probably that is why he's nicknamed "Jagaban".
He is reported to be worth 1.5 billion dollars.
Ben Murray-Bruce is the chairman of Silverbird Group. He represents Bayelsa East Senatorial District presently in the National Assembly.
Ben Bruce is additionally famous on social media as he makes his thoughts about topical issues known almost daily and has a large following.
He has been in the entertainment business for decades and his Silverbird Group has been organizing the Most Beautiful Girl in Nigeria (MBGN) yearly for nearly three decades.
Mr. Murray Bruce's wealth is reported to be valued at nearly $715 million dollars.
Ifeanyi Ubah was already a multimillionaire before he ventured into politics. per source, he created his initial million as a young person when he was simply nineteen years.
He hails from Nnewi in Anambra state and is among the Nigerian richest politicians.
He has business interests in mercantilism spare elements, real estate, oil and gas, transport; he even bought a soccer club and named the club Ifeanyi Ubah FC.
His wealth is reportedly valued at 1.7 billion dollars.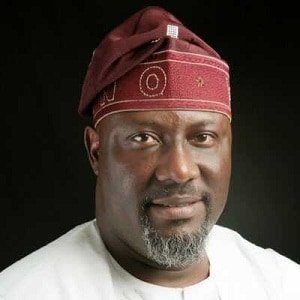 The outspoken and contentious legislator representing the folks of Kogi East within the senate home is graded united of the richest politicians in the African countries.
He has spoken severally against this administration, this has placed him on the new seat.
Dino owns a fleet of exotic cars, motorcycles, and totally different properties, he is ne'er keeping to point out it off on social media.
Dino's wealth is reported to be valued at 800 million dollars.
Related Post:
Top 5 Richest Women in Nigeria – Biography and Net worth
Yemi Osinbajo Biography And Net Worth – Career Journey Of The Vice President Of The Federal Republic Of Nigeria
Wande Coal Biography And Net Worth – Songs And Career Journey Of King Coal
Orji Uzor Kalu is the former governor of Abia State and he is listed as one among the richest politicians in the African countries. He's the chairman of Sun Daily and New Telegraph.
He has stakes in the then-successful multiple CAF competition winners in the 2004's, Enyimba FC.
Orji Uzor Kalu's wealth is reported to be worth about 1.1billion dollars.
Rotimi Chibuike Amaechi is the immediate past executive governor of Rivers State which he led from 2007 to 2015. Before then, he was elected as Speaker into the Rivers State House of Assembly.
Afterward, he became the Minister of Transportation in the Buhari/APC government.
Rotimi Amaechi's wealth is reported to be worth 780 million dollars.
Please note that the figures stated in this article are not exactly as they are estimates but they are close to the exact figures.
We believe this article was helpful, if yes, don't hesitate to share this information with your friends on Facebook, Twitter, and Whatsapp.